Weekends are perfect for planning a little get away. But two days doesn't really cut it as well as a three-day weekend does when you factor in packing up the rental car, getting out of the city and giving yourself enough time to see and do at the other end or along the way. So, my first bit of advice is to speak nicely to your boss and add a Friday or a Monday to your weekend. Our trip was taken on the first weekend in November that Sydneysiders were allowed to leave the city after nearly 4 months of lockdowns due to the covid-19 outbreak. So, my partner and I were in need of some time away from the city and interact with some awesome scenery again. I find a three-day weekend road trip as one of the best ways to unwind and reset for the week (and month!) ahead.
East Coast Car Rentals' car rental location at Sydney Airport is of course conveniently situated right near the airport to receive people landing and leaving from the airport. But their Sydney Airport car hire location is also a great starting point for road trips heading west inland or South of Sydney. Even if you are heading back up to the northern beaches there is easy access to motorways in that direction also. East Coast Car Rentals went one step further for us and delivered the car to our apartment, something they can do for all their customers within 15kms of all their 10 branches around Australia for a small additional fee.
The options are truly endless with a hired car from Sydney airport, but we wanted to get out to explore the "Bluey's" which we had heard so many good things about. The plan for our weekend involves a lot of hiking so make sure you've got your boots and flip-flops to put on afterwards.

Day 1 – From the City to the Mountains.
Our trip starts with our cheap car hire from Sydney airport being delivered the night prior to leaving which made for a completely seamless departure on Friday morning. We got up, packed the car, then stopped at our favorite neighborhood Café, Shenkin. If you're leaving from the airport, it's only a quick stop off King Street (The Princess Highway) if you're driving through the City and trust me it's worth the stop. ps. you must try their Coconut Mocha.
Putting on our favorite road trip playlist we sat back and enjoyed the 1.5Hour drive in our rental car from Sydney Airport to our first stop Wentworth Falls. One of my favorite things about the Blue Mountains is that they're so close to the city and yet so breathtakingly different that you feel you are a thousand miles away from the hustle and bustle of Sydney As soon as we park our hire car from Sydney airport, we are presented with amazing views overlooking the Blue Mountain valley and tropical forests. Views that are hard to describe, we really didn't really realize how vast the Blue Mountains were until we saw them for the first time. We take a minute here to enjoy the landscape hiking down to the first waterfall, which is only a 20-minute hike down from the car park. Out on the trail we notice families with their kids, seniors, runners, hiking extremists, and average hikers just like us. Proving to us that no matter what there are hikes here for everyone, and you can hike for as long or as little as you want to.

Looking to try something a little different we hopped back into our car hire from Sydney and headed over to Scenic world, the blue mountains iconic heritage tourist destination. Here we enjoy views of the infamous Three Sisters from the highest cable car in the Southern Hemisphere as we sailed over the roof tops of the tropical forest below, were we start noticed how dense the forest below is really is as we gaze over a canopy of rainforest for as far as the eye can see.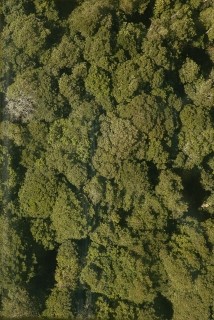 Next up is the railcar! One of the steepest in the world, the railcar brought us right to the base of the Blue Mountains were we then spent the afternoon walking through the rainforest floor and learning all about the Jamieson Valley and its history.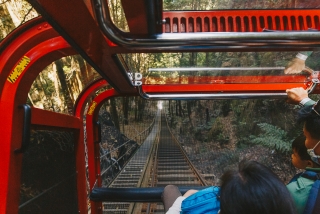 Did you know, the local Aboriginal Gundungurra people have resided in the valley for nearly 50,000 years? Amazing! And lastly, one of the greatest thing about Scenic world is its accessibility, from my understanding it is one of the only places in the Blue Mountains that is Wheel Chair accessible to and from the forest floors. Access to the whole park and its attractions was $49.99 for the day or $99.00 for an annual pass that lets you enjoy the park all year round.
If two stops weren't enough for us keeners, we wanted to make one more before heading to our AirBNB. Getting back into our Sydney car hire and we made our way to the Leura Cascades, on the way we drive through the villages of both Katoomba and Leura. You can't help but want to stop your car, sit back at a café, poke your head into a thrift shop, or see if you can find your next novel at the used bookstore. So that's exactly what we did. Only a short 15-minute drive in our car hire we've made it to the trail head of the Leura Cascades. The trail head here can be a little confusing, but we started by walking out to the Bridal Veil lookout to take in the panoramic views as the sun began to set along the horizon and then made our way down to the cascades. The trail itself is rather enjoyable, its well maintained and makes for a gradual walk down to the Leura waterfall where you become completely engulfed in the tropical rainforest, the sounds of running water, and singing birds.
Bringing an end to an excellent adventure filled, day one.

Day 2 – A morning in the gardens and an evening watching the sunset.
It's the morning of our second day and our weekend is just getting started, we have planned to take a drive in our hired car from Sydney airport to the Botanic Gardens to ease ourselves into another day of adventure after a full-on day of hiking yesterday. The little villages you drive through in the Blue Mountains are always inviting with an array of cafés, shops to visit, slivers of history throughout, and something slightly quirky about each of them. We stopped our Sydney car hire to grab a bite to eat from the Blackheath General Store that we could enjoy on our drive. Guilty of having a sweet tooth we couldn't resist trying their Cannoli's, we can promise you they didn't disappoint either. Not only did the general store have great food, but it also offered a variety of local Blue Mountain gift options, for any of you that need to sneak in a little weekend shopping. Driving to the gardens is nothing short of enjoyable in a car rental like the one we got from East Coast Rentals. We are introduced to sweeping views of the valley, and winding roads through the mountain sides. After only a 45-minute drive from Katoomba we've arrived at the gardens.

A feeling of awe waves over us as we drive up to what feels like a royal private estate nested away in the hillsides of the Blue Mountains. We'd highly recommend visiting these gardens, even if you aren't a "garden lover" they're a peaceful spot filled with flourishing flowers, plants, and trees from all around the world, making for a true oasis. They make for the perfect spot to enjoy your cuppa coffee, read the book you've been meaning to make time for, enjoy a picnic or even have some lunch at the onsite bistro. The gardens were a perfect spot for us to take things slow this morning and enjoy the world-renowned beauty that is provided here in the Blue Mountains.
Next on the agenda for the day was the Grand Canyon Walking Track, but before doing that we needed some lunch and somewhere to enjoy it. We had made some sandwiches the night before and heading to Evan's Lookout where we would enjoy the scenery, a bite to eat, and stretch the legs before taking on the Grand Canyon Track.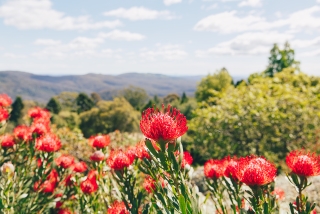 Jumping in our car hire from Sydney we made our way to the Grand Canyon trail head, and if I could make one recommendation when you're visiting the Blue Mountains it's the 'All Trails App'. Make sure you have this downloaded, its super helpful, shows you the best routes to take and even works without service (if you've already downloaded the map). It's a life saver at times (literally) and a great tool to have in your back pocket. Not being from Australia, this trail seemed like it was something from a movie. We embarked on our walk from the deserty tops of the Blue Mountain's into an everlasting lush forest that is filled with creeks, waterfalls, and swimming holes.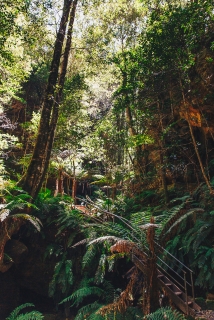 We could have spent day's exploring the forest floor, relaxing at each little stop along the way, there is no doubt why this trail has become such a popular stop here. It truly feels like you're in another world. FYI the suggested trail time says approximately 3.5-4Hours; however, it only took us 2.5hours with stops along the way, just something to keep in mind when you're planning your trip.
To wrap up our second day we had one goal in mind, find the best sunset lookout in the Blue Mountains that we can. My favorite thing about weekends away like this is always trying to find a spot to enjoy a sunset, we like to make the most out of our time on the road in our cheap car hire from Sydney airport. After some re-fueling and putting our feet up back at the Airbnb for a bit we set out to find the best location we could. A couple google searches, re-directions from google maps later and we made it to the Cahil's lookout, and fortunately enough it's located on the outskirts of Katoomba, only a 10 minute drive from the town centre. Cahil's lookout offers all the views you could imagine with minimal to no effort at all, a well-known sunset point for locals and tourists alike. The sunsets westerly over the rolling mountains in the distance, making for one of the best sunsets we've seen in Australia.
And hey, if you can even watch the sunset from the comfort of your own Sydney rental car

Day 3 – Up for Sunrise, home by sunset.
Day three is all about making the most of it. We know this is our last day out of the city and want to start things off with a wow-moment. Up early, before the sun we head to the Three Sisters look out only a short 10-minute drive from our Airbnb in our car hire from Sydney. With this location being a popular tourist destination (if not the most popular in the Blue Mountains) getting here early let us beat the crowds, have the whole place to ourselves, and making the early wakeup call worth every second. Now I get that waking up at sunrise might not be for everyone and can ensure that the Echo Point look out is just a glorious any time of day, so don't you worry, have a sleep-in if you'd like. Keep in-mind that this is also a great starting point for the Prince Henry Cliff walk that connects Echo Point to the Leura Cascades. Now as you could imagine at 7AM on a brisk Sunday morning there really isn't to many options for coffee or food in Katoomba; however, just up the road from the lookout is an excellent little Café called, Cassiopeia. Offering a cozy spot to grab a delicious cup of coffee and an array of pastries to start another day. We nestled in to enjoy the space and finish waking up from our early start.

After breakfast we took sometime to explore the picturesque village of Leura, just east of Katoomba and one of the more popular villages in the Blue Mountains. When visiting on the weekend not only does this village come to life with tourist and locals, in addition the Leura Local Markets are open. Small but mighty these markets have array of handmade crafts, local produce, and secondhand goods. They are a great way to support the local community and enjoy all this cute and quaint town has to offer. I was fortunate enough to find the last Harry Potter book I need to complete a full set for only $5.00! After a little shopping and browsing through the markets we made our way to the Wentworth Pass loop, in the Sydney airport car hire we had for one more afternoon. This is a hike that we had done a small portion of on our first day, with a little more time on our hands we were back and this time for the full thing.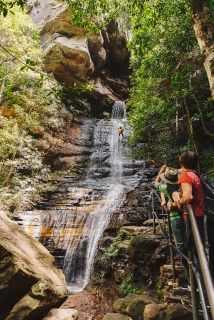 As we begin our final journey we can hear the gentle rumbling from the surrounding waterfalls, and right away we are presented with extraordinary views from the Empress lookout. Shortly after the descend begins smells of eucalyptus begin to surround us, and the sounds of cascading falls become more present with each step we take. It wasn't long before we came across the first waterfalls as we reached the base of the mystical forest floor.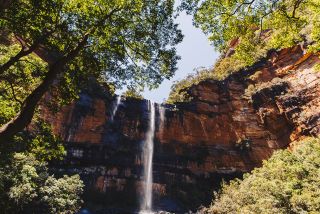 The walking trail hugs the forest floor for quite some time crossing various creeks, and waterfalls until you reach the base of the Wentworth Falls. Aside from the stunning views of the waterfall itself, this place is the perfect oasis to relax and even go for a swim if you've packed your swimmers. Once we've rested up and taken the time to enjoy our surroundings the climb up to our car hire from Sydney airport begins. The trail magnificently hugs the valley walls, meanders through the tropics, and passes through Wentworth Falls on two more occasions. Making the climb up just as enjoyable as the journey down and concluding an unbelievable 2.5HR loop through the flourishing Jamison Valley.
With our final hike coming to an end as we reach our hired car from Sydney airport, we have one last thing in mind, and that's food! Hidden away in the town side is a restaurant called, Bunker. The iconic venue occupies a vintage home surrounded by gardens and outdoor seating. Allowing all their guests to feel right at home and in a fairy tale all at the same time, oh and the food's great too.
All-in-all our weekend away in the infamous Blue Mountains exceed all our expectations, a truly world class destination for all tourist, Australian locals, and avid adventurers a-like. If hiking doesn't get you excited, you can spend your days exploring the villages to find your favorite café or relax at one of the various Day Spa's there is a little something for everyone in the Bluey's and getting there starts here.