What is corporate car rental?
Business car rental is your simple solution that gives you and your employees access to corporate car hire when they need it most. Whether your business has seen an increase in staffing and your can't commit to the cost of a full fleet, or your team is on and off the road for unexpected periods of time – Business Saver convenient and flexible solution that makes corporate car rental more accessible and affordable than ever before.
East Coast Car Rentals is proud to announce Business Saver, a new product that is designed to help businesses of all sizes. From small mum-and-pop stores to larger organisations, business car rental just got a whole lot easier for everyone. With 11 locations across Australia, East Coast Car Rentals is now set to be your sole corporate car rental provider.
Why choose Business Saver?
Choosing Business Saver immediately gives you access to car rental across our 11 major locations at a discounted retail rate all year round – with absolutely no booking restrictions.
Location
East Coast Car Rentals is dedicated to making your company car rental experience memorable at every destination you visit. Our 11 conveniently located branches (and expanding!) give you access to business car rentals at most major cities and airports around Australia. Whether a quick trip to Cairns for a conference, a few weeks in Melbourne for the launch for a new store, or in Tasmania taste-testing new products for your restaurant – East Coast Car Rentals has a company car rental waiting for you.
East Coast Car Rentals has corporate car hire available in Adelaide, Brisbane, Cairns, Gold Coast, Hobart, Launceston, Melbourne, Sunshine Coast, Sydney.
Convenience
Provided only to Business Saver Members, our central booking hub allows for effortless convivence across the organisation when booking company car rentals. Once set up, just log-in, select your dates, and secure your booking! You can decide who in your organisation has access to your account, and because all bookings are charged to one central company credit card, all discounted rates are applied and automatically charged.
It gets even better – if you are arriving by air our complementary airport shuttle will be there to bring you directly to your car rental avoiding, all the airport chaos! Simply notify us once you have landed and one of our experienced and friendly courtesy shuttle drives will be there to pick you up.
Flexibility
At East Coast Car Rentals, we understand that businesses will have different requirements from their corporate car rental partnership. Business Saver is designed to work with you, providing tailored vehicle solutions to suit your organisational structure – whether that be short-term corporate car rental stints throughout the year for frequent interstate travel, or long-term company car hire when your fleet is running thin. Each Business Saver membership is customised to meet your corporate car rental needs.
In an ever-changing environment we know first-hand how important flexibility can be. Business Saver members can enjoy free cancellation on their corporate car rental bookings for any unforeseen circumstances that may arise.
Savings
At the heart of it – Business Saver is all about helping Business SAVE, not only save money, but more importantly time. Our convenient and flexible corporate car rental solution allows you to focus on what matters most, growing your business. Let East Coast Car Rentals deal with all your company car rental needs and get your employees out there growing your business too.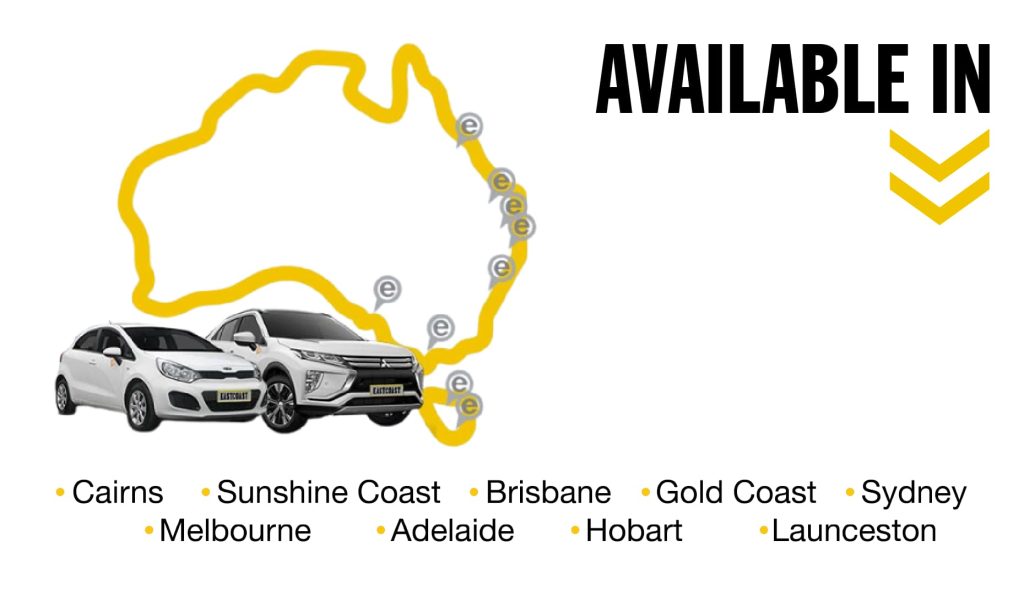 How does Business Saver work?
In three simple steps our team will have you set-up and ready to go with your new corporate booking account – allow you and your employees to make on-demand bookings.
Register: Easily register business by completing the online form on our website. Simply click Register and enter a few details that will assist our Sales Team when approving your account. Once your business has been approved you will receive a confirmation email containing your unique business Corporate Code & Corporate Key
Sign Up: Using your unique Corporate Code & Key, you can then Sign Up to create your account. Individual team members can also sign up to create their own accounts, using the same Code & Key. This ensures all bookings are charged at the same discounted rate, and to the one corporate credit card
Login: All staff members who completed the Sign-Up process can now Log In to our secure online portal to book their corporate car rental. Your discounted rental rates are already applied, & central corporate credit card preloaded & ready to go!