Known for its historic sites, rugged landscapes, delicious food, hiking adventures, wildlife and so much more. Hobart has become a destination that is top of mind whenever Tasmania comes up in the holiday topic of discussion. 2 days, 5 days, or a week or more – there's always something to do in Hobart and the surrounding areas. For the sake of saving you sometime when it comes to planning your next Hobart car hire road trip, East Coast Car Rentals has laid out what we think is the perfect way to spend 3 Days in Hobart – covering all the must see's and do's all while enjoying your time on the road.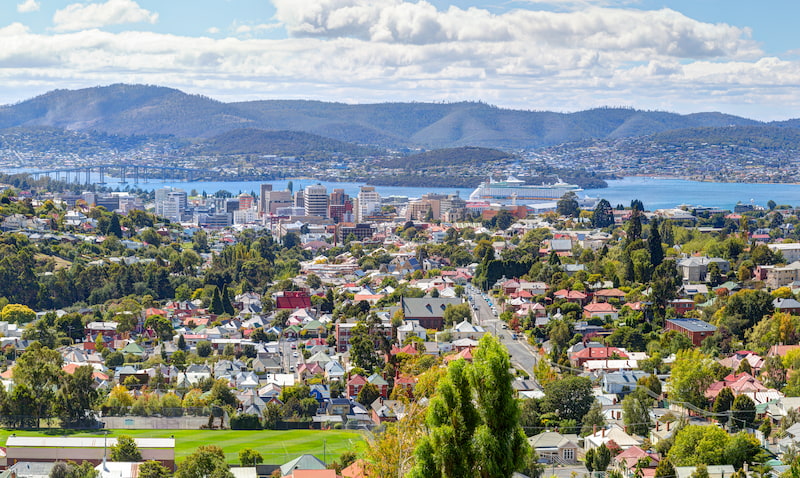 Day 1: Spending the Day in Hobart
You're here! There's something about arriving in Hobart in the spring, everyone's got a bit more pep in their step – the weather is starting to warm, and the days are getting longer. After traveling, today is all about seeing the city before we jump in our Hobart car rental!
To start, we're heading to East Coast Car Rentals latest favourite café – Sisterhood! Located in Sandy Bay only 20 minutes from Hobart airport car rental, this is the new trendy café in town. Their light and bright interior matches the positive vibe their staff delivers to each guest. It doesn't get much better than all-day brunch and a coffee to kick off day one of your holiday fun.
Once you're caffeinated and your belly is fully, it's time to start exploring. Driving your Hobart car hire just a few minutes and you'll be in the heart of the city. Sometimes it's best to see the city with your 'boots on the ground' so-to-speak, so park your Hobart hire car and enjoy the afternoon strolling the streets of Hobart, being sure to stop in at all the quirky local shops, thrift stores (The Finders is our personal favourite), and even a bit of a pub crawl along your way. The Hope & Anchor Tavern on Macquarie Street was established in 1807 and is Australia's Oldest Continuously Licensed Pub – so head on down to enjoy a pint with a side of Australian history. If you trip lines up on a Saturday, you'll want to make sure you meander your way down to the Salamanca Markets.
Every Saturday down by the water you'll find local crafters, farmers, distillers, and foodies showcasing their produce like no other. If you are visiting Hobart for the first time – this is the place to be! The stalls here bring all the wonderful things about Tasmania to one central venue – something even the locals look forward to each week.
As day one comes to an end (and no matter how many delicious products you sampled at the markets) the team is going to be looking for something to eat. Luckily enough there's an abundance of options in Hobart to keep everyone happy.
If you're looking for an easy eat and fun atmosphere, check out The Salty Dog: Right on the coast at Kingston Beach, the Salty Dog is an absolute classic for all the Hobart locals. A revamped 1970's beachy eatery with all the Aussie classics you are looking for.
Day 2: Enjoy a Day Trip to Bruny Island in Your Hobart Car Hire
It's day two – time hit the road and explore what the great southern parts of Tasmania have to offer. Up nice and early we make our way to Bruny Island, home to stunning scenery, wild & marine life, and not to forget some of Tasmania's greatest food. Our East Coast Car Rentals Hobart team cannot stop raving about how great the oysters are – so if oysters tickle your fancy, be sure to park up your Hobart Car hire to try them for yourself. Traveling to Bruny Island will require the use of a ferry which is only located 45 minutes from Hobart. The ferry costs $38 AUD per car (return) and takes approximately 20 minutes to cross, making what makes for a perfect introduction to the island. Once docked we are going to head to the Bruny Island Neck and the Truganini lookout – this stretch of the island connects the Northern and Southern section's providing panoramic views of the surrounding area. If you plan to stay on Bruny Island longer than just a day this is a great spot to enjoy the sunrise or sunset, depending on the time of year you might even be lucky enough to spot a few Fairy Penguins making their way to and from the water.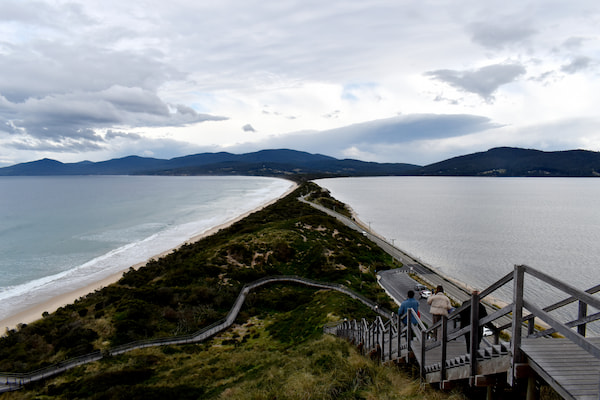 Next up – continue south to visit the South Bruny National Park. It is time to put on your hiking shoes and set off to explore the great coastlines and rugged cliffsides of the Bruny Island National Park. At the most southern tip of the island, you will find the famous Cape Bruny Island Lighthouse, built by convicts in the early 1900's the historic lighthouse has stood the test of time. It is recommended by some tourist to book a tour guide for the day – if that is something you'd enjoy here is a link to 2022 Traveller's Choice Winner. With tours starting at $15 AUD per person you'll learn the history of the lighthouse from an expert and even make your way to the top to enjoy an ariel view of the southern peninsula. Between the lighthouse tour and surrounding coastal walks your day on Bruny Island comes to an end rather quickly. BUT before heading back to Hobart – we must make a stop and enjoy the food everyone raves so much about on Bruny Island. Get Shucked oyster bar exhibits a true bay-to-bar dining experience, with oysters collected from across the road, sorted and shucked on the property and served to you with a smile. It will not get any fresher than this, and they are certified delicious by our very own East Coast Car Rentals Hobart team.
Day 3: Sunrises, Museums, and Dinner at one of Hobart's Best
It's the last day of our three-day road trip in Hobart and rather than spending the whole day driving around in your Hobart car hire, we'll spend it soaking up all the great things in Hobart we haven't made it to yet.
A weekend away is not complete without an early morning Sunrise – there is something special about being up before everyone else, driving through the town while everything is still quiet, grabbing a hot takeaway coffee and finding a spot to enjoy the sunrise. Jumping in your Hobart car hire we're heading 120 metres above sea level to the top of Mount Wellington to take in the greatest view in Hobart. The national park is the Hobart local's backyard, home to mountain bike trails, hikes, rock climbing, waterfalls, swimming holes, and a large biodiversity containing over 500 native flora plant species in what is one of Australia's most unique climates. It is typically always a bit cooler at the top at Mount Wellington, so make sure you have packed an extra layer for when you reach the top. After spending the morning enjoying the views hiking around the mountain top there is no time to waste as we move on to our next destination.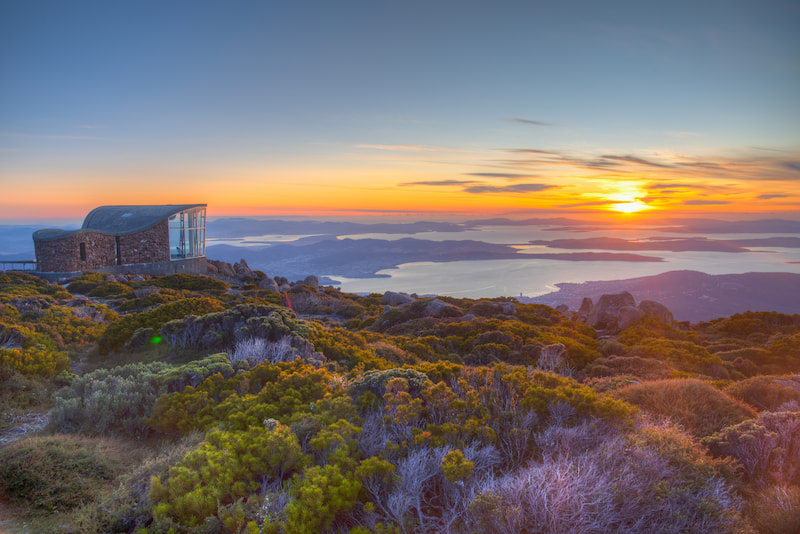 Driving your Hobart car hire back into town (approx. 30 minutes) to the Franklin Wharf you will aboard the Mona Ferry to transport you to the Mona Museum down river. Bookings are required, so if visiting the iconic Hobart Museum is on your list of things to do make sure you book ahead to avoid any disappointment. The Mona Museum has become a sought-after destination because the experience starts as soon as you step onto the ferry, this is just the first of many ways Mona pushes the boundaries to provide a thought-provoking experience that is unlike any museum you have been to before. The museums combination of timeless, abstract, and new age art makes it a must for anyone visiting Hobart – and if you miss it this time you better make it the next.
The last stop on our 3 Day Hobart Road Trip is a fun one. Your last night on vacation isn't complete without a final dinner out – heading back towards the base of Mount Wellington in your Hobart car hire you will find hidden away in the hillside the Cascade Brewery, Australia's oldest brewery and marks a very special part of Hobart's great history. Tucked away in the hills, surrounded by forest there is a euphoric feeling here – it feels right at home, but also a completely different world. The beers are cold, the food is tasty, the music's good, and the fires warm. Enjoying a meal at this historic venue is the perfect way to end a 3 Day Road Trip in Hobart.
No matter where you are going, or what your plans look like, our Hobart car hire team is here to help you make the most of your time road tripping around Tasmania. Be sure to ask for the Staff Local Guide for more tips and recommendations! Sometimes all you need is a 3 Day Hobart Road Trip to take a break from reality and enjoy the little things in life. Wherever you go just remember, there – starts here.