Enjoy a Sunshine Coast road trip filled with Kids School Holidays Activities
QLD school holidays for 2022 is about to swing into action, and although they are always an exciting time of year for families it can be difficult to come up with new fun school holiday activities for kids to enjoy. East Coast Car Rentals is here to help! This blog will lay out a 'lap of fun' on the Sunshine Coast that is perfect for any family looking to spruce up their QLD school holidays 2022. Make sure you pack your swimmers, some runners, the surf and boogie boards, something nice to wear for dinner, and oh ya – don't forget the kiddos either.
Alexandra Headland to Noosa Heads
Starting at the sunny Sunshine Coast car hire you will head north from Alexandra Headland to Noosa Heads. Following highway 6 up the coast be sure to stop in at Coolum beach where you'll find a friendly beach side town teeming with activities. Stroll the boardwalk, shop along the esplanade and have lunch at the Coolum Beach Surf Club or Coolum Beach Bowls Club. Have a swim at the patrolled breach, or take some lessons with the guys at Coolum Surfing School.
There are plenty of beaches along the way that offer Kayaks, surf schools and stand-up paddle boards for hire – the perfect opportunity for the kids to burn off some energy and kick off the kid's school holiday fun!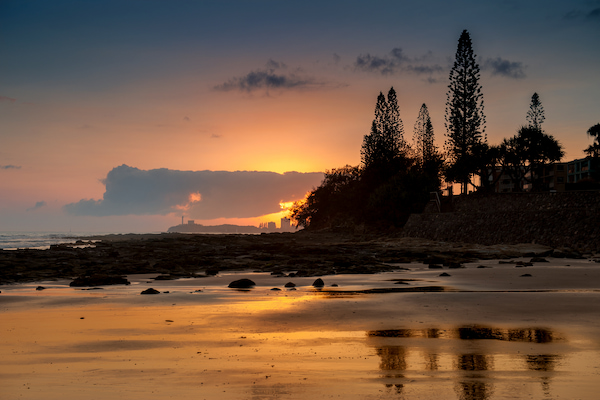 If you and the family are looking to get the heart rate up, the top of Mount Coolum offers spectacular panoramic views of the stunning Coolum Beach and Sunshine Coast Hinterland, from Double Island Point to Caloundra.
The Noosa National Park is a giant outdoor playground during QLD school holidays. The popular scenic destination has everything you need to keep yourself and the kids entertained for a few days. Depending on how adventurous your family is feeling, lace up those runners you packed and hit the trails. Ranging in distance from a kilometre to 10km's the national park's walking trails venture throughout the pristine forests, coastlines, and are home to the endangered black cockatoo, ground parrot, and Koala's. If the kids are looking for something a bit more laid back, swing by the Laguna Lookout. With road access right to the top it's a great kid's activity this school holidays, and a great way of seeing Noosa from a different perspective – plus who doesn't like a lookout?
We don't stop there! After a day on the trails cool off with a dip at the famous Noosa Head Laguna Bay. With parking right next to the Noosa Heads Surf Life Saving Club parents can sit back and relax knowing they have got some help when looking after the kiddos. Now Mum and Dad, if you've somehow managed to wrangle a babysitter for the evening these Qld school holidays head out for dinner to Bang Bang Noosa, their eclectic menu and lavish interior design are perfect for an evening out.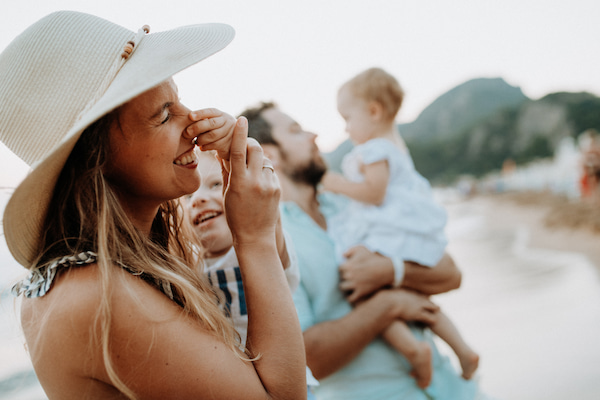 Noosa Heads to Tourist Route 23
After all the fun in the sun, we head inland to explore the Sunshine Coast Hinterlands. QLD school holidays can often bring the crowds, so head up Highway 23 Blackall Range Tourist Drive for a 60KM stretch that veers away from the school holiday rush. You'll pass through a few rural towns, but there are a few you'll want to make sure you stop at.
The small town of Flaxton provides quick and easy access to all the hinterland school holiday activities for kids. Just a short walk from your Sunshine Coast car hire through the Kondalila National Park you will arrive at a swimming hole and waterfall. Being off the beaten path you can expect a few less crowds here during the QLD school holidays and it's a great way to split up the drive.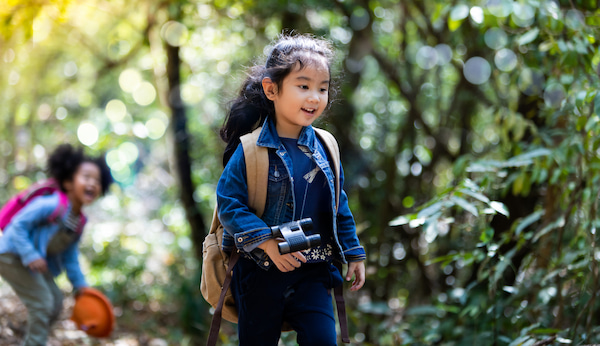 Next up on Route 23, we have the Maleny Botanic Gardens and Bird World. As the name suggests, you can get up close and personal with some of Australia's most exotic birds – with over 700 varieties! The gardens are also perfectly situated with a view overlooking the Hinterlands, so as the hustle and bustle of the QLD school holidays carry on it's encouraged to slow down and enjoy the panoramic views right in front of you.
Stopping at the Gardner Falls and Dularcha National Park are also worth mentioning if you have the extra time. Now let's head to the Zoo for more Qld school holidays fun!
Tourist Route 23 to Australian Zoo
2022 QLD school holidays wouldn't be complete without a trip to the Steve Irwin Australia Zoo! Perfectly situated at the end of Tourist Route 23 the Australia Zoo is a staple when it comes to kids school holidays activities. Home to the Crocodile Hunter and Australia's largest zoo, kids can enjoy all the very best wildlife has to offer at this iconic destination!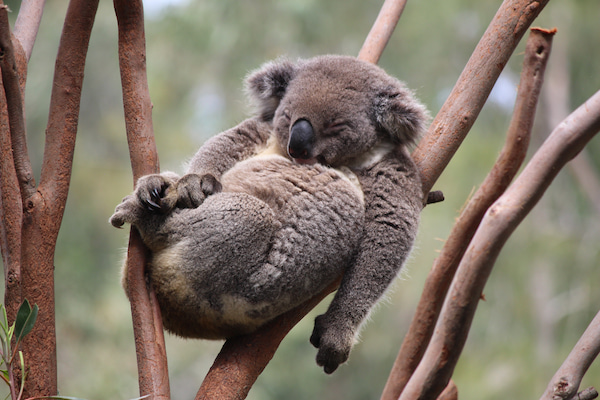 From up close animal encounters, live conservation shows that showcase the animals live in action, and even play zookeeper for the day. During the QLD school holidays it's recommended you secure your tickets online to any Zoo attractions or event's you're hoping to attend.
It's important to note that the Australia Zoo is doing their best job to provide rehabilitation to Australia's Wildlife right onsite at the Zoo. The Australia Zoo Wildlife Warriors Hospital has seen over 100 thousand animal patients through their doors since opening. School holiday activities for kids can be informational too, it's important to keep those brains turned on over the QLD school holidays.
Australia Zoo to Amaze World & Sea Life Aquarium
East Coast Car Rentals can't forget, Amaze world. In 2021 Amaze World was voted, "The Best Thing To Do on the Sunshine Coast". Now that is a pretty big achievement considering the competition it's up against. As the name suggests there is plenty of fun to be had here, the family could easily spend a full day of the school holidays here. Find your way out of the Bellingham Hedge Maze or Timber Maze, test your luck with a round (or two) of mini golf, explore the Nature Playground and Waterpark area – and so much more!
Amaze World is quite literally a giant playground during the QLD school holidays; however, on a rainy day the fun can get a little damp as most of the venue is outdoors. Finding school holiday activities for kids when the weather is wet can be a challenge, but look no further than the Sea Life Aquarium on Sunshine Coast.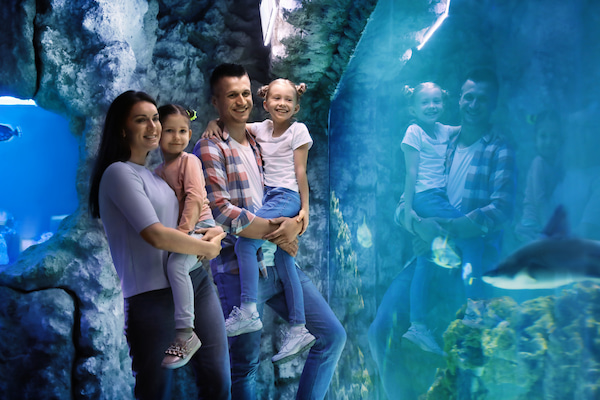 On your way to the Aquarium make sure you stop over at the Big Pineapple for a classic QLD school holidays photo-op. Just off the highway it is an absolute must-do for a good family laugh. When you arrive at The Sealife Aquarium you'll be right where you started at Alexandra Head's. The aquarium itself has over 10 unique exhibits that bring the extraordinary marine life that surrounds the Australian coast right to us. Enjoy the depths of the sea from a different perspective as you walk through the underwater tunnel, or partake in a fully immersive and educational experience with the kids over these QLD school holidays as you dive in with the penguin's or seal's.
The Perfect End to your QLD school holiday road trip.
Whether you've got a few days, or the whole 2 weeks, the Sunshine Coast has everything you need to keep the kids entertained over the QLD school holidays 2022. The variety of outdoor coastal experiences and vast hinterlands, Australia Zoo, Amaze World, and Sealife Aquarium leave no stone unturned for fun school holiday activities for kids.