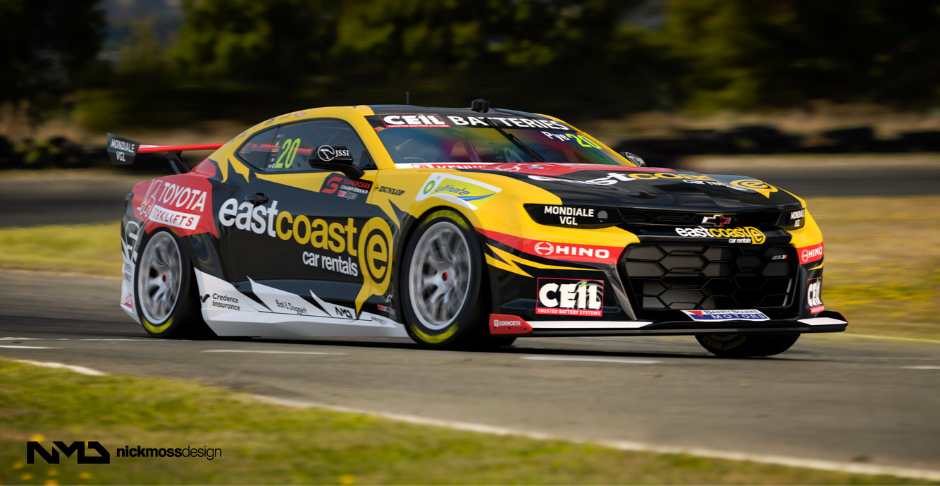 East Coast Car Rental's is proud to partner with Team 18 for the remainder of the 2023 Supercars Championship season.
We are extremely proud to reveal Scott Pye's #20 East Coast Car Rentals Racing Chevrolet Camaro ZL1 for the Tasmania SuperSprint on May 19-21.
Scott Pye said "It's great to welcome onboard East Coast Car Rentals as a new partner to the team and to see them onboard my #20 Camaro in Tasmania. They're a new partner to the sport which is exciting, and we'll be sure to give it everything to deliver them a strong result in Tasmania."
East Coast Car Rentals will provide Team 18 with a fleet of vehicles for use during race weekends, as well as during promotional events throughout the year.
CEO Daniel Kearney said, "We are looking forward to the Tasmania SuperSprint weekend and seeing Scott's car whiz around the track in the East Coast Car Rentals Racing Camaro – it looks absolutely fantastic and will be sure to get the win."
Our East Coast logo will appear on the doors of Pye's Camaro in Tasmania and also on the front of Mark Winterbottom's #18 DEWALT Racing Camaro for the remainder of the season. The partnership will also include joint marketing activities throughout the year.
Director, Rohan Marx said, "I've been a fan of Aussie Superscars since I was a kid watching great Bathurst and Wellington Street Circuit races on TV in a small town in New Zealand, so I am very proud and excited that 40 years on we have been able to align ourselves with Team 18 for a successful 2023."
A display version of Pye's #20 East Coast Car Rentals Camaro has already set foot in Tasmania and will be on display at Launceston Airport in the lead-up to the Ned Whisky Tasmania SuperSprint, which kicks off at Symmons Plains Raceway on 19-21 May.
For a limited time to celebrate our partnership with Team 18, enter our Ultimate Tasmania SuperSprint Experience giveaway. Competition ends 10 May 2023 with the winner announced 11 May 2023.