Around an hour's drive from Taupo, Kaimanawa Forest Park is a time capsule of life in New Zealand before humans walked the Earth. These rolling, tree-covered hills offer plenty to explore with varying levels of difficulty, making it the perfect stop on your North Island road trip.
Where is the Kaimanawa Forest Park?
Made up of several mountain ranges, the Kaimanawa Forest Park is east of Tongariro Park, south of Taupo. For road trippers who have been stuck in a car for hours, this park gives travellers both fresh air and an insight into native New Zealand flora and fauna. Some native birds you could spot on your excursion include:
The rare blue duck.
New Zealand pigeons.
Parakeets.
Tuis.
Additionally, you may see a couple of red deer leaping between the foliage, or if you're fortunate in the evenings, clusters of long-tailed bats out hunting for insects. Though there are many short tracks for families and those running on a schedule to enjoy, the park offers experienced hikers overnight adventures and areas to hunt and fish. If you're planning on going on a longer hike, the Department of Conservation recommends hikers bring these essential items on their trek:
Warm clothing, including a hat.
Comfortable hiking boots or trainers, including a spare pair.
A first aid kit.
Raincoats.
Plenty of water.
New Zealand is known for days that contain four seasons, as weather changes incredibly quickly. Even in the summertime, hikers can be met with plenty of rain and cold weather, so it always pays to be prepared, regardless which adventure you choose to embark on.
1. View the Pillars of Hercules
15 kilometres south of Turangi, Kaimanawa Road is a gateway to some of Kaimanawa Forest Park's most ethereal tracks. For a brief leg stretch and a photo opportunity, Kiwi road trippers need not look further than the Pillars of Hercules walk. A ten-minute round trip, this is a stellar chance to get the blood flowing to your legs after being cooped up in a car, without taking too much time off your day. After working your way up the steep steps, you'll be met with views of the Tongariro River gorge, carved from flowing lava over 350,000 years ago.
A post shared by Gotta Love NZ (@gottalovenz) on
Jun 26, 2017 at 3:26am PDT
2. Kayak the Tongariro River
For adventure lovers looking for an adrenaline rush, kayaking the Tongariro River is perfect in providing thrills. Navigating this river isn't for the inexperienced, however. The Department of Conservation recommend that kayakers either have a high level of experience and skill themselves before tackling the river, or travel with a guide.
If you decide you want to try your hand at catching some while in the river, you'll need to have planned this in advance. The Tongariro River is New Zealand's most-fished river, and as a result, Kaimanawa Forest Park is protected by the Fish and Game Council. You'll need to obtain a licence to fish. Luckily, these are inexpensive and readily available at most fishing and sports stores, which there is no shortage of in Taupo.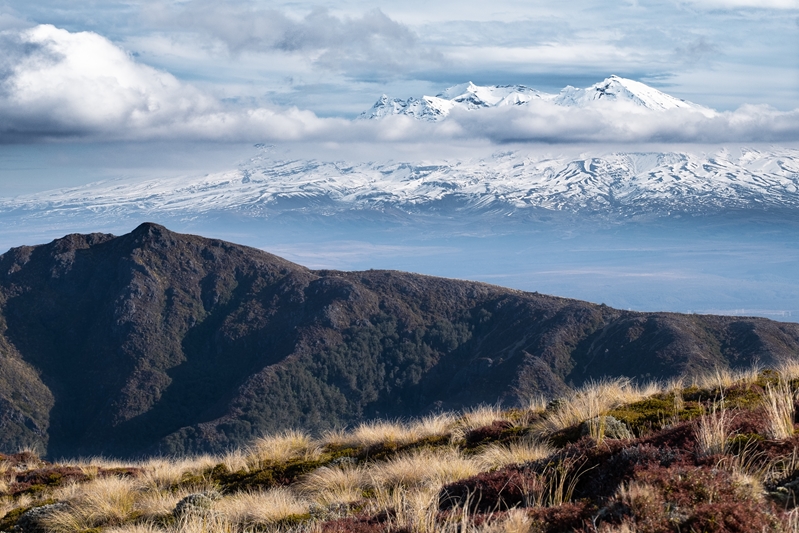 3. Hike to Castle Rock
Pack a picnic and put on your tramping boots. Along the Kaimanawa Forest Park walkway is Castle Rock. The journey to this stunning rock formation is ideal for any nature lover looking to get up close and personal with the New Zealand countryside. Castle Rock is a walk best attempted on a clear day. When the sun's shining, hikers are met with picturesque views of mountains Ruapehu, Ngaruahoe and Tongariro.
After your hike, spend the night in one of the park's four huts for the true-blue Kaimanawa experience. The number of bunk beds range in each one, from six to 16, and include a wood-fired oven and an axe for chopping wood for your overnight stay.
A post shared by Kim McVicker (@kimmymcvicker) on
Aug 18, 2017 at 9:29pm PDT
4. Mountain bike the Tree Trunk Gorge track
Leaving from the Urchin camping area is the Tree Trunk Gorge track, which is open for mountain bikers to explore. A sunny day is the best time for this activity, especially when cycling under the leafy canopies. There are few things more magical than feeling the rays of sunlight drip through trees as you wind around the track. When biking in New Zealand forests, it's always a good idea to bring a spare pair of shoes – there's nothing worse than getting back into a car with muddy trainers.
What are you waiting for? To kick-start your New Zealand road trip, reach out to the team at East Coast Car Rentals at Auckland Airport to put your plans into gear.